Plenty of people will be skeptical about this bit of news but boy am I excited. I'd love to hear if this has happened before or not, but so far it's the first time that I'm aware of, and I'm chuffed it's me.
If you pick up a copy of the Birmingham Mail today you will see, on page 29, an article about Lichfield's Fuse Festival that I originally wrote for The Lichfield Blog, and with pictures taken by our resident photographer, Nick Brickett.
This represents the first fruit from what looks like a very healthy tree of collaboration between the hyperlocal site I volunteer for and Britain's biggest newspaper group. It's the realisation of my long held vision of how hyperlocal will contribute to the local media industry – what I like to call the 'news onion'.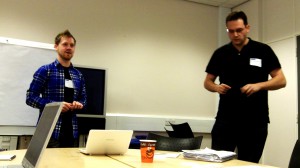 Trinity Mirror's David Higgerson and I led a session at the Talk About Local unconference in Leeds back in April that dealt specifically with collaboration between organisations like ours. We went through ideas for how we could work together, and took many suggestions and comments from the audience. In all I felt it was productive and it helped David and I to move forward with our own collaboration of which today is the culmination.
The details of how this relationship will mature are still undecided but there is certainly more to come and plenty more discussions to be had. That said, the next few months will prove very exciting.
*Photo by the venerable Josh Halliday.